Let's start at the very beginning, a very good place to start…
For us, this was at the W.A. Mozart Airport in Salzburg after a long day of travel from Trim, Ireland, just outside of Dublin. We exited the airport in search of a taxi and were turned down by three — three taxi drivers. As soon as they saw our Steingasse Street address, each one passed us along to the next driver in the line. The fourth driver took us, no problem. Why the reluctance to take us to Steingasse? It is one of the oldest streets in the city and is extremely narrow, not built for cars, so driving on it is difficult and could result in serious scrapes to the car's paint job.
We chatted with the driver on the 20-minute drive to our place. He told us he was from Romania and had been in Salzburg for thirty years. He had originally come to study to become a pastry chef and had worked in a hotel kitchen for years before giving it up for the independence and flexible hours of driving a taxi, which gives him more time to spend with his family. We had recently met a taxi driver in Scotland who was from Hungary. I wondered how many Eastern European expats there are driving taxis in Western Europe.
When we reached Steingasse, our driver drove to the entrance of the street, put the car in reverse, and skillfully backed 100 yards down the street to our place, Steingasse 41.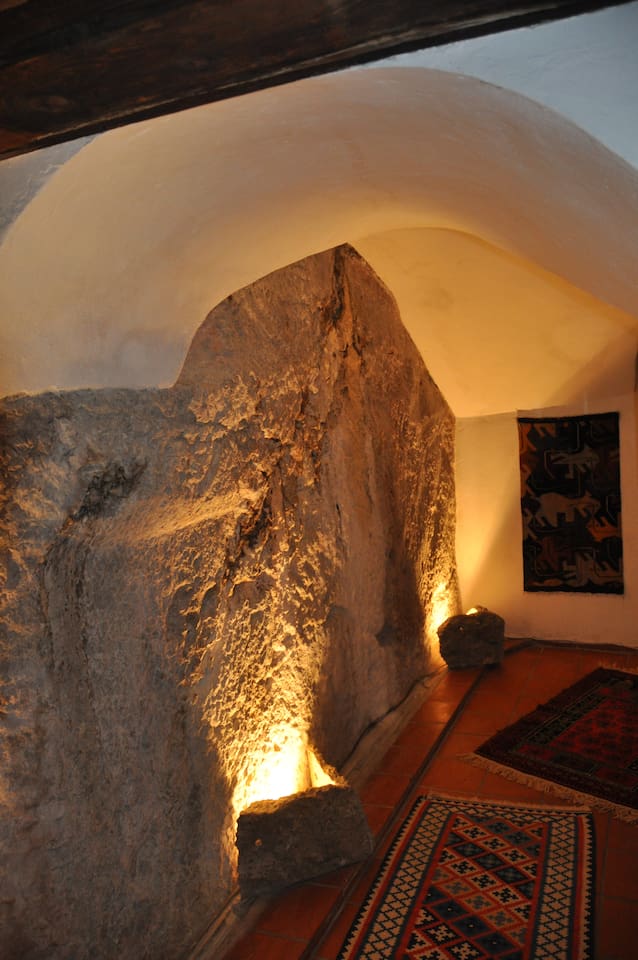 The apartment is built into the side of a mountain with some walls and the shower enclosure all being part of the actual mountain. Reading the Airbnb house manual, the owner made recommendations in case of fire, but then commented that the place has been here for 500 years and hasn't burned down yet. So far, so good.
Köchelverzeichnis
After settling in, our next order of business was finding a place for dinner. It had been a long day so, the closer to our apartment the better. I checked my phone and found the restaurant Köchelverzeichnis a mere 200 feet from our door. The walk took about one minute.
Köchelverzeichnis seats about 16 people with two small tables for two on its steps and the rest in a cozy, candlelit and inviting interior. This place is a one-woman show, run by Andrea, a reserved and efficient Austrian. Each day she prepares an antipasto, a main pasta dish, and a dessert, and offers a modest selection of apertifs and wines. The meal ends with a complimentary glass of limoncello. This is the kind of place where locals from the neighborhood come in and stay for a while. The food and atmosphere were delightful with Andrea effortlessly managing the whole show and softly singing along to the Latin Jazz or classical music that plays in the background. We enjoyed our dinner so much we ate there twice during our short stay.
And the odd German name? It means Köchel Catalog, which classical music fans know as the catalog of the works of Mozart. If you've noticed a Mozart piece on the radio or in a concert that is announced or listed as "K" and then a number, this is the Köchel listing.
Salzburgerfestspiele
One of the best reasons to go to Salzburg in August is for the Salzburg Festival, a classical music fest that celebrates its centennial next year. Part of the fun at festival time is the people watching. Concerts go on all day and people really dress up, so it's fun to just people-watch folks in their concert finery, or locals who often wear the traditional dirndls and liederhosen. Even if you can't afford concert tickets, which can be expensive, there are free recorded concerts shown every night on a big screen near the cathedral. We went to one of these Festival Nights and saw the Tchaikovsky violin concerto played by violin superstar Anne-Sophie Mutter, recorded from a concert in 2015.
We were fortunate enough to snag tickets for a wonderful concert of Verdi's Requiem with the Vienna Philharmonic conducted by Ricardo Muti and an all-star cast of soloists. We also had tickets to Mozart's Ideomeneo – it's hard to resist a Mozart opera when he is the most famous guy in town. The singing was great, but we didn't love the futuristic production in which the costumes the cast wore looked more like a pajama party than the wartime drama that it should be.
Dokumentation Center
We took the bus out to Bertchesgaden, a town about a half-hour bus ride from Salzburg, crossing into Germany, for a tour of the former Nazi community in Bertchesgaden, which includes Hitler's famous Eagle's Nest getaway and old bunkers from the Nazi period. The story in Bertchesgaden was an unfamiliar one to me about how Hitler, years before becoming the German Chancellor, vacationed in this beautiful alpine area. Once he was in power, he strong-armed local residents, many of whom were from families who had lived in the area for generations, into selling their land for low prices to the Third Reich. One fellow who complained about the price he was paid for his house was dispatched to Dachau. Hitler and those close to him built houses in the area, all of which were bombed by Allied troops after the war to prevent Nazi sympathizers from creating a shrine of the place.
Doe a deer, a female deer….
On a lighter note, what trip to Salzburg is complete without a Sound of Music tour? I was excited to find that there is actually an SoM bicycle tour! John opted out, but I went and had a blast. Our tour guide was a petite and fun-loving Spanish woman named Betty who has lived in Salzburg for ten years and is a serious SoM fan. We rode through town with her pointing out this movie site and that – the convent where the "real" Maria lived and the one in the movie, Mirabell Fountains where the Do-Re-Mi scene was shot and, of course, the gazebo from I am Sixteen going on Seventeen. She also shared 'dirt' from the production of this 50+ year old movie, such as, Christopher Plummer (the Captain) took Charmian Carr (Liesl, who was his daughter in the movie) out drinking at night. Plummer disliked Julie Andrews because she was too cheerful. We had portable speakers to play the SoM soundtrack and got to sing as we rode – what could be more fun?
Too soon, it was time to say "so long, farewell, auf wiedersehen, goodbye" to Salzburg.